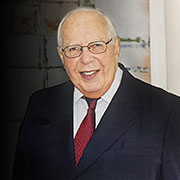 Barrie D. Rose
A long-time and generous donor to the University of Toronto, Barrie D. Rose gave staunch support to research, education, and patient care in palliative medicine that helped develop and shape this critical field.
Barrie Rose (1930-2018) was an accomplished businessperson and an avid philanthropist. Through his management companies, Mr. Rose gave generously to the University of Toronto for more than three decades with donations exceeding $7 million. In that time, he helped support research funding and scholarships at the Faculty of Arts & Science, the Faculty of Music, the Temerty Faculty of Medicine and more.
Barrie Rose began to establish the direction of his philanthropy in palliative care in the early 1980s. In 1998, he gave $1 million to the Faculty of Medicine to establish the Rose Family Chair in Palliative Medicine and Supportive Care. The landmark gift came about after a personal loss that demonstrated to him the need for a better approach to caring for patients with serious illnesses and their families. Today, Dr. Camilla Zimmermann holds the Rose Family Chair with a research focus that includes developing and testing potential models for the provision of palliative care.
In 2009, Mr. Rose also established the Rose Family Chair in Palliative Medicine and Complex Care at University Health Network (UHN). Held by Dr. Michael Baker, who was instrumental in helping shape Mr. Rose's philanthropic direction, the UHN chair focuses on the clinical training of established physicians seeking fellowships in palliative care.
Through the work of Drs. Baker and Zimmerman, Mr. Rose realized his philanthropic goals. To underscore his commitment, he contributed $5 million to U of T's Department of Medicine and UHN to support the new residency program in palliative medicine. Approved by the Royal College of Physicians and Surgeons of Canada in 2016, the residency program marked the first time palliative medicine was recognized as an individual sub-specialty of internal medicine in Canada. Mr. Rose's gift continues to support palliative medicine residents, collaborative research projects and education and quality-improvement initiatives.
Barrie Rose's generosity and commitment to this emerging area of medicine left a lasting legacy at the University of Toronto that is helping to relieve and better manage the suffering of patients with life-threatening illnesses.