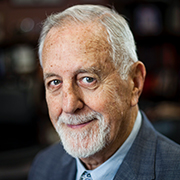 Avie Bennett
Hon LLD 1995
Avie Bennett contributed passion, energy, time and resources over many decades to important initiatives at U of T, and he has left an enduring legacy.
Avie Bennett (1928-2017) was a successful real estate developer who was also one of Canada's most generous supporters of higher education and the arts, with a particular affinity for Canadian literature.
Bennett's 70-year relationship with U of T began when he was a student at University College in the late 1940s. The Toronto native then joined his family's real estate business, and eventually founded his own company, First Plazas Inc.
In the 1980s and beyond, Bennett supported the arts in Canada in many ways. In 1985, he purchased the struggling publishing house McClelland and Stewart (now Penguin Random House Canada), home to such literary icons as Alice Munro and Margaret Atwood. He later donated a 75 per cent interest in the company to U of T, which the University held until the company was sold in 2011. Bennett also sponsored the digitization of The Canadian Encyclopedia and made it available at no cost through the Historica Foundation of Canada. For these and many other achievements, Bennett was appointed a Companion of the Order of Canada in 2003.
Few people were aware of the extent of Bennett's philanthropic interests. Over the years, he quietly contributed to U of T, supporting a wide range of research programs, professorships, building projects, and green space efforts, among many other initiatives. His support for scholarships was broad but in his later years focused on Indigenous scholars and first-generation Canadians. He was also generous with his time, serving on U of T's Governing Council, the Principal's Advisory Committee at University College, U of T's Boundless Campaign as an Honorary Chair, and as a member of the Campaign Executive Closing Committee.
His contributions also included funding for the Avie Bennett Chair in Canadian Literature, which ensures that U of T will always have a distinguished and dynamic scholar able to teach students about Canadian identity and experience through the lens of the country's greatest works of fiction. His generous support for U of T Libraries included a contribution to help establish U of T Mississauga's Hazel McCallion Academic Learning Centre, a state-of-the-art facility that opened in 2006 as U of T's third-largest library and has since won a number of design and sustainability awards.
The Bennett Family Foundation has continued to support Bennett's legacy, with additional gifts to support the Bennett scholarships—generous awards that recognize the achievements of dozens of students from underrepresented groups each academic year.
While the University lost a distinguished and beloved alumnus with the passing of Avie Bennett, he will be fondly remembered for his passion, vision and generosity.