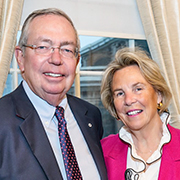 Arthur and Susan Scace
Arthur (BA 1960 TRIN, Hon DSL 2003 TRIN, Hon LLD 2003)
Susan (BA 1963 TRIN, Hon DSL 2003 TRIN; Hon PhD 2013)
Arthur and Susan Scace have been champions for education, working to build a stronger community through their generous contributions over several decades.
Both proud U of T graduates, Susan Scace and Arthur Scace met at Trinity College as students. Arthur (1938-2020) had a distinguished career as a lawyer and a corporate director, rising to managing partner and chair of McCarthy Tétrault LLP and serving as the chair of the Bank of Nova Scotia. He also volunteered and served as a community leader throughout his life.
Susan is an author, advocate and fundraiser, as well as a dedicated volunteer and community leader, having served as president of The Henry White Kinnear Foundation and board chair of the Loran Scholars Foundation, among many other board and volunteer roles.
Over the years, the Scaces remained strong supporters of the University, generously sharing their time, talent and expertise. Susan sat on Governing Council for 12 years and has been highly involved as a volunteer in the Boundless campaign, serving on the Campaign Executive Closing Committee, the Stewardship Taskforce Committee and the Pre-Campaign Steering Committee. Arthur sat on the board of the University of Toronto Schools, and both he and Susan have served in various other advisory capacities.
Over the years, the Scaces have personally and through The Henry White Kinnear Foundation given more than $8 million to U of T. The Scaces' philanthropy at U of T is broad, with contributions supporting Trinity College, as well as the faculties of Medicine, Music and Law, and the Landmark project. In 2012, their lead gift of $2.25 million launched the C. David Naylor University Scholarships, which recognize students for high academic achievement and demonstrated leadership excellence.
Beyond the University, Susan and Arthur have both served on numerous boards and advised many cultural, health and education organizations. They have also supported a wide range of organizations, including the MaRS Discovery District, the University Health Network, United Way Greater Toronto, and Sunnybrook Health Sciences Centre.
Through generous financial support and extensive volunteer commitments, the Scaces have built a remarkably powerful legacy as passionate and dedicated community leaders supporting education, health, culture and social justice.